CanvasPop Adds Facebook Camera API to its DNA
You can't get more niche than printing someone's DNA on canvas and selling it to them. Once they've got their genetic blueprint on the wall of their home, they're not likely to buy another one.
That's the conundrum that Ottawa's DNA 11 Inc. found themselves in. They grew quickly to $1 million in revenue in less than one year but found their sophisticated printers sitting idle for half the day. While there is no shortage of other things they could print, founders Adrian Salamunovic and Nazim Ahmed wanted to do something remarkable and disruptive rather than just printing photos on canvas. Enter the iPhone and its fixed-focus 2.0 megapixel camera.
While the iPhone 3G was groundbreaking in 2008 it resulted in a wave of lower resolution images that looked terrible if they were printed any larger than a postcard.
Salamunovic and Ahmed started getting requests from friends and family to print these low-res photos on canvas. And it turns out DNA 11's equipment was particularly suited for taking a 900K iPhone photo and up-scaling it to look great on a 20-inch by 20-inch canvas. Enter CanvasPop.
Fast forward to October 2012. Instagram launched and gave iPhone users the ability to add digital filters to photos to create effects that looked even better on canvas. CanvasPop was one of the first photo-printing services to tap into Instagram's API and they haven't looked back.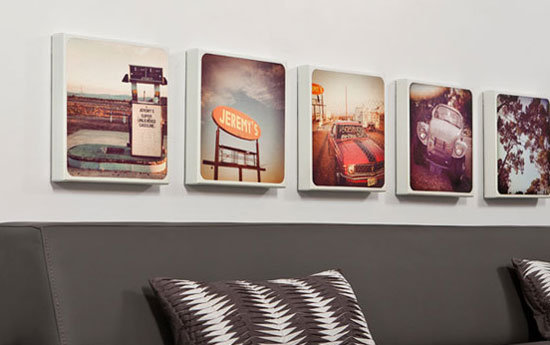 "Digital images alone is a hot market. Mobile photography is an even hotter market, and believe it or not making analog things is really back. I don't think it ever went anywhere but people love to make stuff and with so much digital content out there people are making more analog stuff and that is why CanvasPop has grown so much," Salamunvic told Techvibes. Whether it be canvases, photo-books, or business cards, photo-printers CanvasPop, Blurb, Shutterfly, and Moo are all in the business of taking "digital stuff" and making it real.
CanvasPop has now expanded to two printing facilities—one in Ottawa with four printers and a 20,000 square foot facility in Las Vegas with 12 printers.
Should CanvasPop be nervous about Facebook's $1 billion acquisition of Instagram and the surprising launch of their Instagram-clone Camera App? Doesn't look like it.
CanvasPop continues to pump out Instagram canvases and now offers the same integrated service for Facebook Camera photos. So even if Facebook shutters Instagram, they'll still be friends with the social network.
With a photo-printing expert in our midst the question many of you may be wondering is how Facebook Camera compares to Instagram? You may be surprised.
CanvasPop took a photo on an iPhone 4, imported it into both apps, and chose similar filters ("Bright" in Facebook Camera, "X-Pro II" in Instagram). After publishing the photos on both networks, they connected to Facebook and Instagram to order 20×20" canvas prints. Which app produced the better print? CanvasPop says Facebook but you be the judge.
The Facebook Camera image is on the left.