Clip Mobile expands coupon app to BlackBerry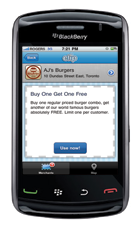 Clip Mobile, a mobile app that delivers coupons to consumers for businesses in their area, is now available for BlackBerry, allowing merchants to reach five million Canadian consumers.
Clip, previously available for iPhone and Android, uses the GPS capabilities of smartphones to find nearby businesses that provide coupons through Clip. Launched in January 2010, Clip has already partnered with companies such as Nike, Second Cup, Bouclair, Roots, Sports Experts and Whole Foods. Quiznos and Domino's Pizza have used Clip to deliver coupons for their Toronto locations, and the staff behind Clip is looking to expand their offerings for 2011.
"We know that the smartphone is increasingly going be the place where eyeballs are going to migrate, especially in terms of consumer behaviour, so Clip is focusing on this evolution," said David Offierski, founder of Clip Mobile. "Lots of other people are now waking up to this and there is a growing amount of hype around the local mobile deals space. In this game, content and user experience are king so we'll just stay focused on improving those aspects of Clip. Everything else is just noise."
For more information or to download Clip, click here.