Discover Tectoria's Startup Alley a capital idea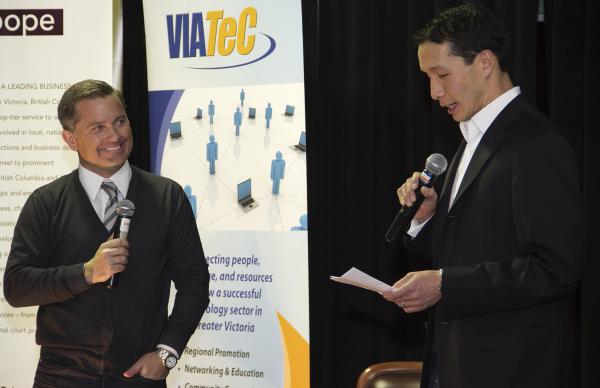 Victoria's technology sector was on show yesterday as Discover Tectoria took over the Crystal Garden. VIATeC's biennial event, previously known as Island Tech, included battle robots, Segways, video game motion simulators, and a digital bartender and put Victoria's $2 Billion tech industry front and centre.
Highlights of the event included a conversation between Yahoo! builder Jeff Mallett and the C100's Anthony Lee (pictured to the right), a visit from Microsoft President of Interactive Entertainment Don Mattrick confirming a new game studio in Victoria in 2012, and Startup Alley.
13 local startups lined the alley displaying their wares and demoing their products for the 3,500 attendees who filled Crystal Garden throughout the day as a chance. Here's who was there:
Bet Smart Media
ChatterBlock
Crowdcontent
EvoShift Communications
MediaCore
Pixton Comics
Reef Safe Fish
Social Economix
SparkTrust Systems
Travergence
Wifarer
Xoom Data Services
Yodo