Early adopters of cloud computing aren't happy with it, new research suggests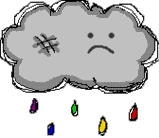 As it turns out, cloud computing hasn't been sunshine-and-rainbows for early adopters.
According to research conducted by computer security firm Symanetc, early adoption has been slow and satisfaction ratings have been low. Less than 1 in 5 organizations outsource hosting of apps to cloud computing providers such as Amazon and Rackspace.
Cloud computing is expected to grow slowly relative to most modern tech (think smartphones, tablets, apps). The market is anticipated to grow from $41 billion this year to $241 billion in 2020.
Concerns about security and a lack of expertise are the two key factors that hold companies back, Symantec says. Security was the number-one concern—over half of the survey's 5,000-plus respondents expressed worries about hackers, malware, and insider info sharing.
"While computing changes constantly, most shifts are simple changes that don't require organizations to change the core of how they work. Not so with cloud computing," Symantec said. "It requires organizations to change how they approach IT."
There is, however, a silver lining: most respondents believe that cloud computing's barriers of entry will lower as security increases and ease of use is streamlined. The market is still "immature," Symanetic acknowledges.