Facebook Hacked ... The Geeks Inherit The Earth
Notice that I removed the word "Shall" from the title of this blog post
After I caught the news about the Facebook hack, I meandered around the internet, thought about some recent events and am connecting loose dots for those that haven't heard about the goings on. Hell, maybe I'm way behind the eight-ball on this stuff, but it's worth noting. It all could be a "Blair Witch Project" or "Joaquin Phoenix" type hoax, so please take this lightly. Or, not.
Prefacing all of this is what I took away from Leonard Brody's talk at the Art of Leadership last week in Calgary (and, I paraphrase …)
@ldbrody delivered an EXCEPTIONAL talk on the state of technology, social networks, global connectivity and our human evolution into being a "virtual" person for 2/3rd's of our waking days (plugged into the Internet through desktop or mobile). I liked the notion that national governmental structures are vastly outdated, for example, "representative government in Canada is based that 52,000 people in a riding need to elect someone to vote on their behalf on matters important to governing the nation. This is no longer the case with technology." Leonard summarized it nicely "The next 365 days is going to be like a blender."
Is there a connection between this concept of global communication, mankind's virtual evolution, and the global Occupy youth movement?
The videos of the recent police crackdowns at various #occupywallstreets show a growing unrest and tension between global youth as well as the "establishment" ... ground zero of a youth revolution, much like the 1960's, but perhaps on a global scale, enabled and connected by technology but driven by the same anti-establishment mentality.
And, how is this related to the latest CNN report that hackers broke into Facebook and spammed bad pictures to bazillions of people?
Read on.
So … OMG; didjya see on CNN.com? Facebook: Attack identified, most spammed porn removed
My daughter is 13, and she's had her account for about six months on the highest privacy settings, so hopefully she didn't receive the bad pix that have been sent by a hacker. If she did … well … we'll see how that conversation goes re: "naked Grandma." I didn't see any offending pictures when I logged into my account last night. But certainly lots of people on twitter reported seeing them.
Well, as it turns out, the culprits claiming responsibility are called Anonymous and it's a crazy thing they've apparently been able to do. Using the simplest Facebook user account, they've created a living, breathing worm virus that's whipping through Facebook, able to harvest any data they want. Yup. ANY and ALL data. Further, they say they have external control of the worm, so will be able to adapt and re-purpose. Oh, hell, I'll let them tell you about it in a video.
Hmmm … ok. All data, huh? Are you sure? That's bad, methinks. If it's true.
This video does a very convincing job of demonstrating the ability of the worm by filming the data harvest in progress. Lots o' data streaming in lots o' windows on lots o' computers. Unfortunately, they don't show the data, so we're not even sure what it was. Even if we were able to read it, though, there'd be no way to really substantiate its source. Pretty freaky Matrix-type scene, though.
But the thought certainly gives one pause. We do know for sure that someone is capable of hacking and sending some bad pictures around. Is deeper, unsecured data mining plausible?
Have a look at another Anonymous message … check out the guy's mask.
Now … where have I also seen that mask?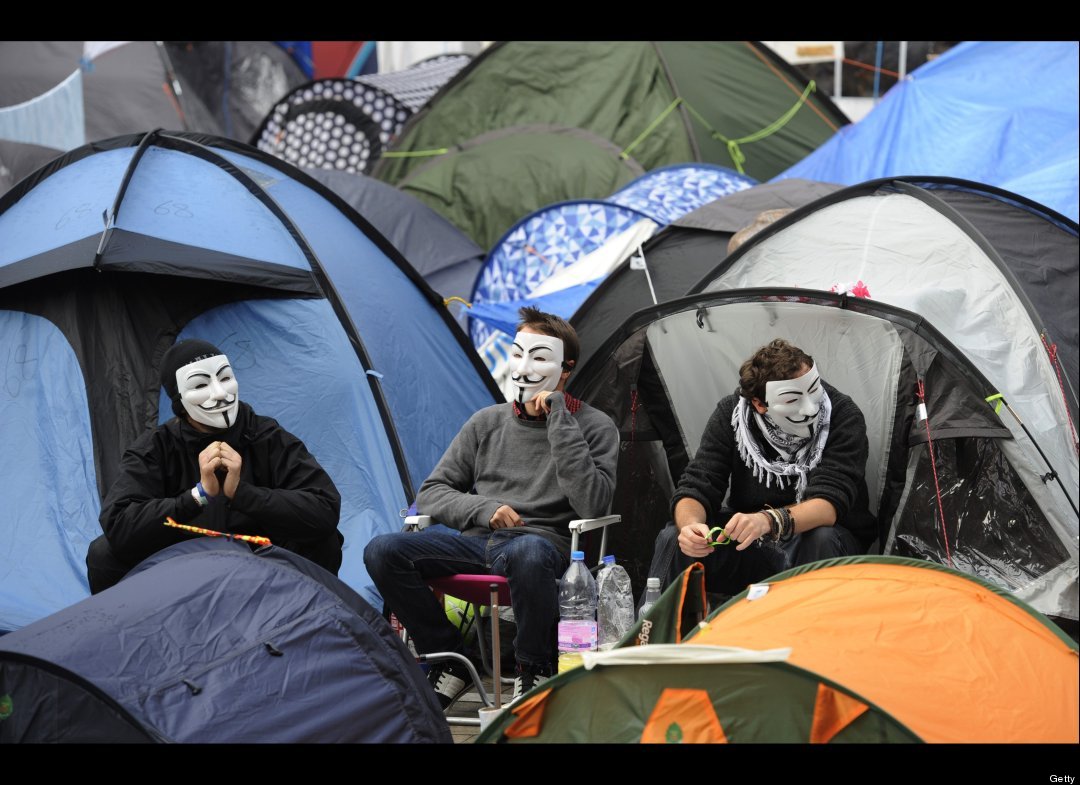 Oh yah ... in #occupywallstreet videos and pix, like these at The Huffington Post. This article has good background on the Guy Fawkes mask becoming a symbol utilized by many movements (Wikileaks, Anonymous, #occupywallstreet).
"V" is for Vendetta. And, apparently Virus, as well, according to Anonymous. Since when did Facebook become the establishment, anyway?
Through my internet meanderings, I saw that Facebook is reacting by saying they are closing their doors. Umm, really?
One video said Facebook is shutting down on November 5, 2012.
Weekly World News posted an article last January about Facebook closing doors on March 15, 2011.
Not the most reputable sources or video production values. I suspect had Mark Zuckerberg held a press conference with this type of news, at least one mobile phone would've captured the actual video.
But… there is a shadow of a doubt here. The CNN report regarding the hack is real. Confirmed by both Twitter and Facebook. What about the mask? Coincidence or coordinated or connected or just a fashion statement? Is the Anonymous worm a hoax?
Like a quote from the Blair Witch Project, "I'm so Scared"
John Cougar Mellencamp sang "There is nothing more sad or glorious than generations changing hands." The geeks shall inherit the earth, indeed.
Ok, from this point, I'm going to let you formulate your own editorial opinion about all this stuff. I have my own, but my only purpose here was to explore the possibility of connection.
All that being said, I'm not sure I would care ultimately if Facebook did get shut down. It'd be good to go out more to coffee shops with friends, anyway.
Be careful out there.