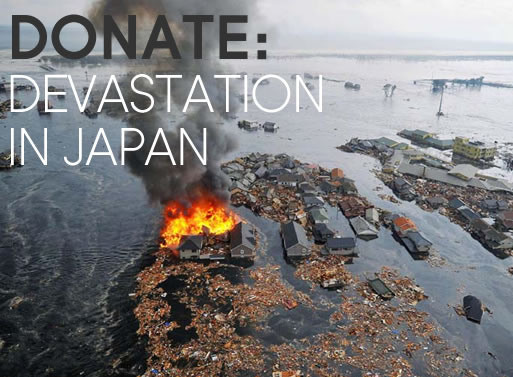 A massive earthquake hit Japan early Friday afternoon. This and the resulting tsunami has so far caused the deaths of over 2000 people. Not only that, entire towns have been washed away by the 100 mile long wall of water and millions of people are currently without water or electricity.
It will take years of work to clean up the mess left by this disaster but you can help make it at least a little bit easier for those most affected by the natural disaster.
Below you'll find a list of charities that are already helping the Japanese cope. Please use the links provided to donate to the cause.
Straight donating:
"MSF currently has a team of 10 people divided into three teams conducting mobile clinics and assessments in Miyagi prefecture."
The team is finding that areas which were previously impossible to access by road are in serious need of help.
"The Salvation Army in Japan has three emergency service relief teams operating in areas devastated by the earthquake and tsunami that hit the north-east coast of the country last week. One of the teams is assisting people who have been evacuated from areas where there is potential danger because of damage to nuclear power generation stations."
"The American Red Cross is offering assistance to the Japanese Red Cross following Friday's magnitude 8.9 earthquake and resulting tsunami that left towns and villages in Japan devastated. "
There are many other charities on the scene now. These are simply the most well known to this writer.
Texting services:
To make donating easier many companies have set up a text to donate system. Simply text specified words to a certain number and you'll automatically be charged the donation amount on your next cell phone bill. All of the services will send you a confirmation text, make sure to reply "yes" for the donation to go through.
Telus:
Text "QUAKE" to 45678 to donate $10 to The Salvation Army in Canada
Text "ASIA" to 30333 to donate $5 to The Canadian Red Cross Society
Mobile Cause:
Text "Japan" to 80888 to donate $10 to Salvation Army efforts.
Text "Redcross" to 90999 to donate $10 to the Red Cross
Other:
Text "GIVE" to 45678 to donate $5 to UNICEF.
Donations will show up as a one time charge on your cell phone bill.
How else you can help:
The best way you can help without directly sending money or volunteering is to tell the world about the situation. Blog about it with relevant links to charities, share the information on Twitter and Facebook and just get it all out there to the world.