Not Your Father's Remote: Today's Universal Remotes are Much Better Than You Think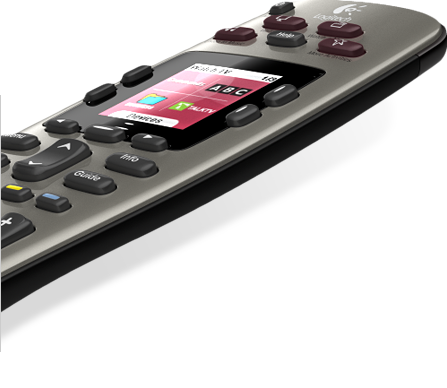 With all the devices fighting for precious real estate in your digital living room it's getting harder and harder to control all your entertainment equipment.
A typical home theater may include a television, an audio video receiver, a person video recorder (PVR), a media streamer (like an Apple TV or Boxee Box), video game consoles and a Blu-ray player—and every one of these devices has its own remote requiring you to keep a mountain of controllers on-hand just to get everything turned on. Not to mention the complexity of trying to turn everything on and set it all to the correct inputs to make it all work.
There is an easier way! Universal remotes have come a long way since the original versions that merely mimicked the basic functions of your existing remotes and were programmed with a special combination of precise button presses, codes, and a whole lot of luck.
Companies such as Logitech have launched a simpler way to program and control all your equipment. Under the name Harmony Logitech, there are a series of remotes that offer online setup and a feature called Activities. These remotes allow for easy set up using an online wizard that walks you through each step and boasts one of the largest databases of devices available.
This means that not only can you easily control your TV and other entertainment devices, you can also control other IR receivers which most devices that use a remote already have. Best of all there are no more codes to remember. Everything is searched using the model of your existing products in Logitech's database. But the feature that really makes these remotes shine is the automation of everyday tasks.
Harmony remotes offer a function called Activities which is a custom set of actions that can easily be programmed to occur in a specific order. Older high-end universal remotes offered a similar feature called Macros but these were infinitely more difficult to program and did not have the help feature built in if you ran into problems. With the Activities features you can tell the Harmony remote what devices to turn on and which inputs they need to work with a one-button press.
A common "Activity" setup is "Watch TV" which will turn on your TV, set the video input correctly, turn on your receiver, set the input on the receiver to the PVR input, and then turn on the PVR. All this, while also doing away with all those other remotes for each of those devices.
If your home incorporates some IR controllable dimmer switches which are available at most hardware stores, you can even have the remote turn down the lights when running the "Watch a Movie" activity. The possibilities are endless as all the activities are customizable and easy to set up. Not to mention the sheer volume of IR-controlled devices and Logitech's massive database with all the codes to control each of these devices.
If you're not quite ready to make the jump into a new remote but own an Android or Apple smart phone, many network connected devices offer remote control apps that can be downloaded (usually for free) which will allow you to control their devices through your home wireless network. For example, Samsung offers its Samsung Remote app which allows you to control its line of Smart TV's and even allows a keyboard in the app for text entry on the TV when needed. This way you can still reduce some of your physical remotes or even use it as a backup for the inevitable time someone misplaces a remote.
Smartphone apps are great and can be a lifesaver on occasion but most still do not offer the Activities feature of a Harmony remote. Luckily, Harmony has released a new device called the Harmony Link which allows you to use your Android or Apple iOS device to control your home theater equipment as well. This device connects with your smartphone or tablet through its wifi connection and controls your TV and other associated equipment in much the same way a regular remote would but allows you to create and access activities in the same way you would with a standard Harmony remote.
What will they think of next?
This post is sponsored by Best Buy.