Prepare to be impressed: Interactive social analytics come to HootSuite
Vancouver-based HootSuite has just launched its latest new service, HootSuite Social Analytics.
This new service will provide a comprehensive view of statistics from Twitter, Facebook, Google, and more in real-time and with some impressive features.
Integrated with Google Analytics, HootSuite's new Social Analytics consist of over 30 individual report "modules" accessible through a re-designed launch bar. Users can select from a variety of modules in any combination to build custom reports, or for quick reporting, choose from a selection of pre-made report templates. This means you can Track Twitter brand mentions, measure Twitter profile follower growth;, examine Facebook Likes and demographics, etc.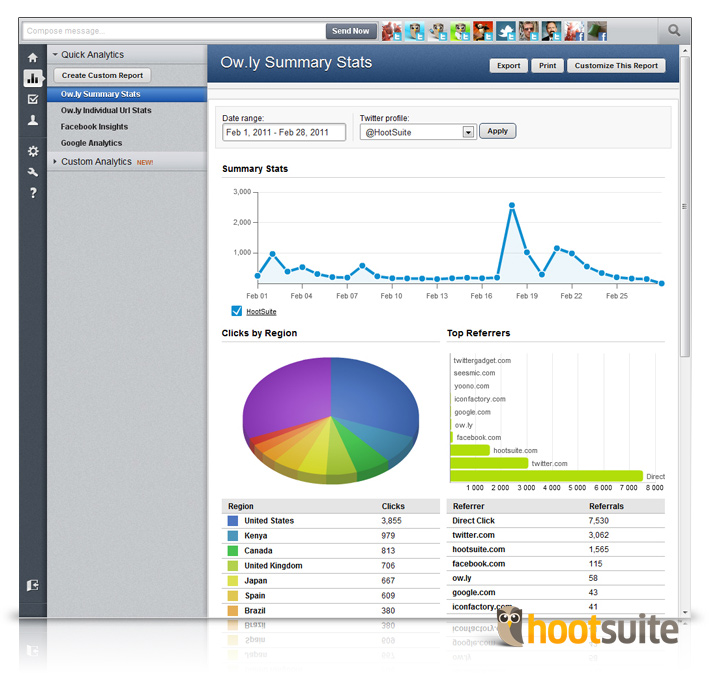 And my favourite part: report appearance can be customized with headers and logos, as well as with charts and graphs, ror a custom-branded report appropriate for clients or companies.
Once created, analytic reports remain interactive and can be edited or adjusted at any time. Reports can also be shared with any HootSuite user, not just team members. In fact, reports can even be delivered via emailed PDF on a daily, weekly, bi-weekly, or monthly schedule.
All HootSuite users, Basic customers, have access to the new functionality. The reports are purchased by "points," which are purchased by users (with real money).