Techvibes Thanksgiving: What we're thankful for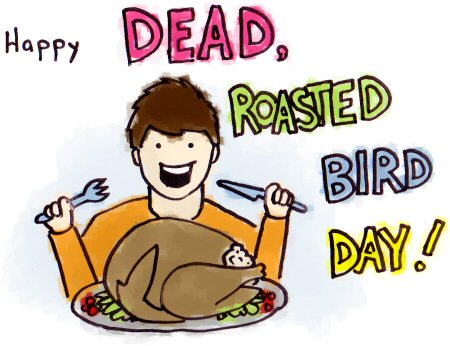 Traditions are scared, and few more so than expressing thankfulness for the blessings in your life at a big roasted turkey dinner.
While the Internet may limit us from offering you a seat by our brick-lined, chopped-wood hearth fire, or let you pat Sally, the chubby orange cat slumbering on our living room bear rug, we still extend a hand to you: join us at the virtual table, with this stuffed bird as our centrepiece, as we give thanks to that which we cannot live without.
Google. More than just a search engine, Google and its suite of products is used several times daily by many millions of people. How many Google queires do you perform each and ever day? 10? 20? 50 isn't uncommon, especially when you add image searches, video searches, etc. Plus maps, of course (love you, Ol' Mapsy! And your cousin Street View is a lot of fun too). Even with all their failed attempts, like Buzz, Wave, etc. It's a fun company that offers practical, everyday essentials, and for that, we say thank you.
Smartphones. Remember texting on a 9-button flip phone keypad? Somehow that was a revolution, though in hindsight it seems pretty silly. Full keyboards, touch-screen smoothness, and powerful apps are things we didn't even we realized we needed 'till we got 'em! And for that, we say thank you.
Hootsuite. No, this isn't a plug for them because they're a Vancouver startup. Really, we love all Twitter apps. But Hootsuite is our staple software for Twitter, and arguably the best at what it does. And for that, we say thank you.
Coffee. Well, this isn't exactly technology, but come on, how many startups succeed without espresso injections - both literally and metaphorically? Thanks, coffee.
You. Where would we be without you? Probably in this exact same spot, actually, but our hearth wouldn't have any wood and Sally would be starving. You fine readers keep this hyper-local technology blog not only alive, but thriving. And for that, we say thank you.
What are you thankful for?