Toronto Startup Uniiverse Launches New Platform for Collaborative Living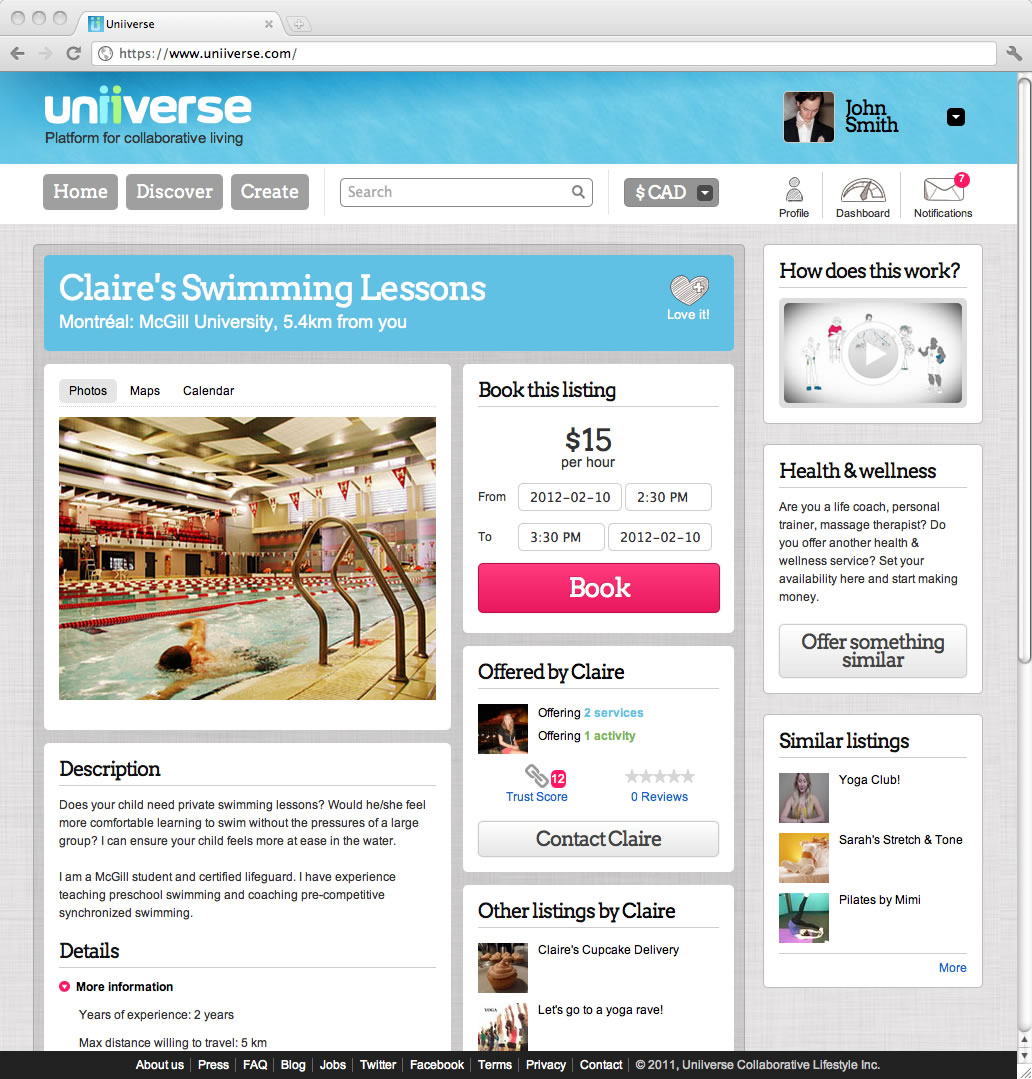 Earlier this week, Toronto-based startup Uniiverse, an online person-to-person marketplace for offline services and activities, launched on a worldwide scale.
Built as a layer on top of existing social networking platforms, Uniiverse enables its users to meet people in a trustworthy and authentic way.
"Uniiverse is building the sharing economy, where access and experiences are more important than ownership. This movement will help the environment, global financial issues, and build stronger communities," says Craig Follett, CEO and Chairman of Uniiverse.
Users can identify the service or activity they're offering, the price they charge (if it's not free), and when they are offering the service or activity. "For example, a baby sitter can list their availability each week, along with their hourly fee. Other users can then see whether they have mutual friends who've worked with that baby sitter before and find out if they liked working with them," says Follett.
People can instantly discover, book (via a calendar feature), and pay for the listing through the Uniiverse website. It's free to list your services. The company only charges the person who books the listing, via a service fee, if something is sold on the website. With this full value chain marketplace business model, Uniiverse plans to be a completely ad free environment.
Follett and his co-founder, Ben Raffi, were inspired to create the service while working together at The Boston Consulting Group (BCG). At the time, they realized that there was a gap in the sector. They wanted to create a service that picks up where Craigslist ends. In addition, they were both looking for ways to meet people who have similar interests, like rock climbing and spearfishing, in a more personal and trustworthy way.
In the last two days after the service launched, the user base on Uniiverse has grown by 300 per cent. The startup has enlisted forty volunteer online ambassadors to help them attract more users to the website. So far, they have ambassadors working in Toronto, Montreal, San Francisco, Boston and Vancouver. They hope to enlist more people from other cities in the near future.
The opportunities that Uniiverse provides are endless. You can organize running groups, sell yoga sessions in the park, find referrals for professional services like dog walking, share your power tools or car, and much more. Whether you are an entrepreneur, or just looking to meet like-minded people, there's something on Uniiverse for you.
The more that users rate each others' trustworthiness, via ratings and reviews, the better the service will be for all of its users.
The Uniiverse startup, which is now comprised of nine team members, plans to offer a number of new features in the near future. Keep an eye out for their mobile app which will be launching in the next six to twelve months.