What Are You Doing on May 23?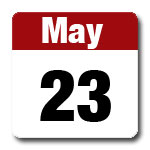 Mark your calendar.
Wednesday, May 23 is shaping up to be a big day for the Montreal tech startup scene. A trifecta of events are descending on the city with FounderFuel's Spring 2102 Demo Day, the C100's AccelerateMTL event, and the CVCA's Annual Conference stirring up excitement.
StartupNorth's David Crow points out what an incredible opportunity May 23 can be for entrepreneurs across Canada as well.
My goodness, this is an incredible opportunity for Canadian entrepreneurs. If you plan this correctly, you can connect with investors, other founders, folks form NYC, Boston, the Bay area. While the specific sessions at CVCA aren't necessarily my cup of tea, you could sit in the lobby at the Fairmont Queen Elizabeth and meet every investor in one shot.
Crow goes so far to suggest that hustlin' founders might want to take advantage of the unique swag that all CVCA attendees will be toting around for a couple days.
Just like LinkedIn, I'd be building an HTML5 optimized version of my application and making sure as hell it works like gold on a Playbook (which has a great implementation of WebKit browser). You could call the Fairmont and set up an espresso stand and give away coffee to everyone that demos your application. Hell if nothing else a big sign with "Free Latte" for all of the hung over CVCA attendees and have a student running to a local coffee shop for fulfillment. Great opportunity to get out and hustle.
Book your flight now.