The first cohort to graduate from international startup accelerator The Founder Institute's Montreal chapter celebrated their accomplishment on Friday.
read more
Dogs are said to be man's best friend, and if DogSync CEO Benjamin Syne has anything to say about it, Dogsync will become indispensable for that relationship.
read more
The University of Waterloo's Velocity Fund was established in 2011 following a donation of $1 million by Kik founder and Velocity Residence alumnus Ted Livingston.
The Velocity Fund is a grant program for startups and aspiring entrepreneurs to win funding through competitions held three times per year with four $25K grants for the best companies who are current students or recent alumni who have graduated within the past year.
read more
Guelph's Redtree Robotics wants to make things easier for mobile robot makers and things are about to little easier for Redtree itself.
read more
The team at Hubdoc certainly gets it. Today, automation in your accounting is key.
read more
A new startup called Spoon has launched a text-based meal delivery service in downtown Vancouver.
read more
Over the past few years, we have seen an explosion of startup activity as the traditional barriers to entry have come down. The ability to raise money no longer determines one's fate. With lowered costs to build and run websites, acquire and retain users, virtually anybody can pick up coding and start a tech company.
read more
Chris Arsenault, a former entrepreneur and now managing partner of iNovia Capital, has charted the startup ecosystem in Quebec over the past 20 years and for the next five years.
read more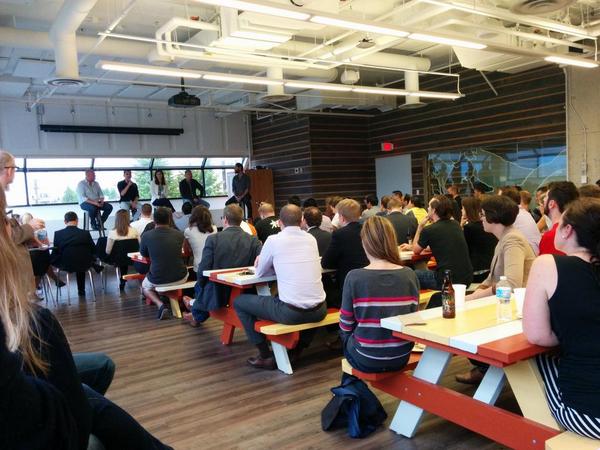 Earlier this week HootSuite's new HQ2 office space hosted their very first event.
HQ2 is located two blocks from HootSuite's HQ1, which opened to similar fanfare 15 months ago (no word on whether HQ2 has bullet-proof windows as well).
read more
Everybody knows that most startups fail, but are still shocked when it happens to them. They're often bitter first and then depressed before eventually having the strength to try again.
The reasons for the failure can be selected from a long list, but usually it boils down to these top three simple lessons.
read more
Startup Empire, a new conference aimed at educating founders and employees of startups, will take place Sept. 23 in Halifax.
Milan Vrekic, the Executive Director of the Volta Labs and the organizer of the conference, said Startup Empire will feature a range of top-flight speakers from the tech and startup world who can advise young companies on the path to success.
read more
Toronto's PumpUp today announced the closing of a $2.4 million seed financing round led by General Catalyst Partners. Additional investors included Azure Capital Partners, Relay Ventures, Freycinet Investments, and a number of angel investors.
read more
The web has always been a network of knowledge. From its inception, one of its strongest points has been the ease that the world's knowledge has become accessible to all—or, as Jimmy Wales of Wikipedia put it, "imagine a world in which every single person on the planet is given free access to the sum of all human knowledge."
read more